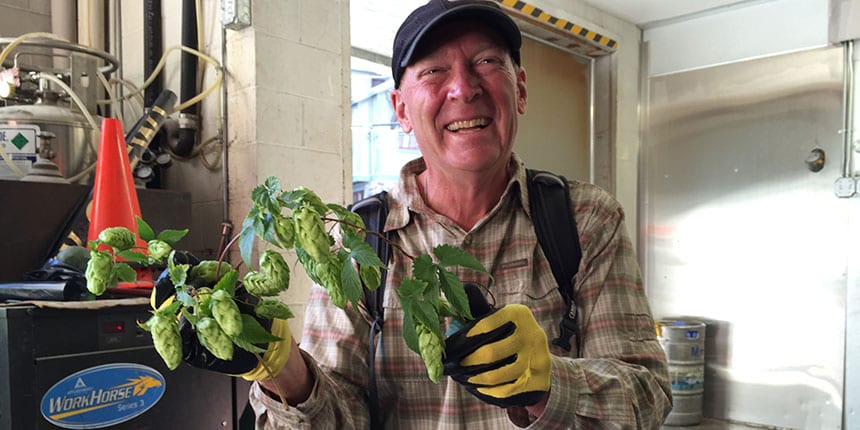 Summit Land Conservancy
Hops provide the gloriously delicious aromas and flavors of your favorite IPAs and other craft brews. The beautiful cone-shaped flowers are a precious resource for beer lovers everywhere.
But before you raise your next pint, why not hit the trails to see hops in their natural habitat?
Complete Hike Schedule Below.
Now's your chance to explore wild hops populations in and around Park City, Utah, through a series of Hops Hunters Hikes. And come fall, you could be enjoying a tasty limited-edition "open space" Wasatch Brewery beer — Clothing Hoptional — featuring the area's wild hops.
Hops Hunters Unite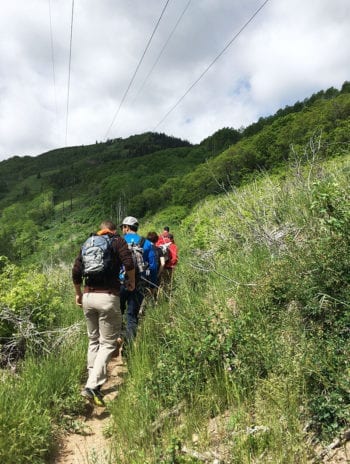 A collaboration between Summit Land Conservancy and Wasatch Brewery, the Hops Hunters Hikes program is in its fifth year and features five hikes on five protected properties in Summit County.
Each hike offers a unique view of the area. The roughly two-hour, 1.5-mile, family-friendly hikes provide plenty of opportunity to see not only hops, but also native and invasive plant species, wildlife, birds, and butterflies.
"We put a big emphasis on wild species identification," says Julia McCarrier Edwards, Programs Coordinator for Summit Land Conservancy.
The hikes are suitable for most ages and abilities. Natural-world experts (and amateur enthusiasts) are encouraged to join the hikes and share their expertise with the group.
"It's very collaborative," Edwards says. "We have folks who attend a couple hikes a season who are brilliant at identifying butterflies or edible plants."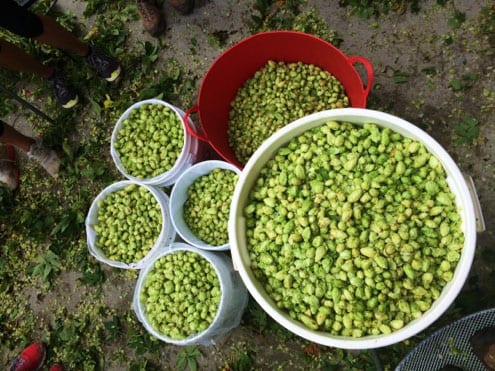 Along the way you'll also learn about Park City's rich mining history, which was in its heyday at the time hops were introduced to the area.
German immigrants brought hops to Park City more than 100 years ago. The plants were grown near brothels and then cultivated by women in the town's Red Light District, Edwards explains.
"They were used both as a fragrance and as advertising, trying to lure in the men who love beer," she says. "They're also a signifier that this is a place where you can have a beer and have some company."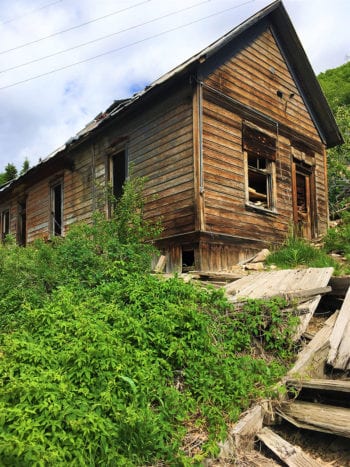 Three hikes pass through old mining structures, giving guides the opportunity to discuss that particular mine as well as early Park City. "We were a mining community before a ski community," Edwards notes.
But the featured attraction for the Hops Hunters Hikes is the hops.
"We watch hops grow (throughout the summer)," Edwards says. "It's really neat to see."
Hikers on the first hike, which took place June 10, saw bines starting to branch out. On the next hike, set for June 24, hikers should see some starting to climb.
"Hopefully by the last hike in August we'll really see the cones starting to develop," Edwards says.
Harvesting the Hops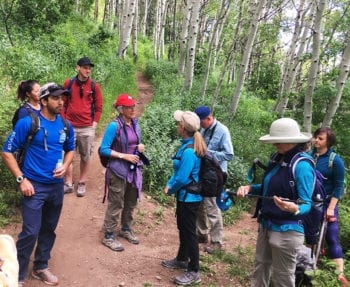 Summit Land Conservancy, which oversees more than 5,000 acres of conserved land, works with Wasatch Brewery to determine when the hops are ready to harvest. It's usually in late August or early September. A call for volunteers will go out when it's time to pick the hops.
"We'll meet at Wasatch Brew Pub, go over how we harvest and then divide and conquer," Edwards says. "We take the hops back to the brew pub, separate the cones from the bines, have some lunch, drink some beer, and watch the brewing start."
A portion of the profits from the special Wasatch "open space" brew will help to protect additional open spaces in Summit County.
2018 Hops Hunters Hikes
The McPolin Farmlands and Rail Trail hikes are the most accessible, Edwards says. The Rail Trail is paved, so that one is wheelchair accessible. The Prospect Ridge hike is slightly more advanced, but all hikes are at a reasonable pace.
June 10: Empire Canyon
June 24: McPolin Farmlands (meet at the White Barn; parking lot is across Route 224 from the White Barn)
July 8: Virginia Mining Claims (meet at the Upper Sandridge Lot at 153 Marsac Ave., Park City)
July 22: Rail Trail (meet at Prospector Park)
August 12: Prospect Ridge (meet at the Upper Sandridge Lot at 153 Marsac Ave., Park City)
Harvest Date: TBD
If You Go…
Sign up ahead of time so organizers have an accurate hiker count.
Hikes start at 9:30 a.m. and last around 2 hours
Don't forget to wear hiking shoes and sunscreen
On-leash dogs are welcome (so long as they're comfortable in groups)
Organizers advise bringing a snack and plenty of water
Visit Summit Land Conservancy for additional information.